Today's business requires a successful Android Mobile Application to meet the growing demand of Apps and you cannot simply deny the fact. Hence, Android Application development is becoming an integral part of the IT industry which in turn is helping other industries to prosper. With the growing acceptance of Android enabled devices across the globe the need of android enabled apps is also growing at a fast pace. It is considered as a very promising industry for the coming time hence, this is the right time to learn the technology and join Android training in Ahmadabad.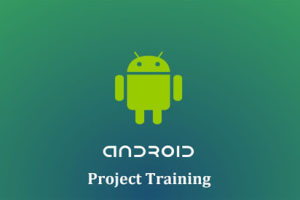 Design Interactive, Scalable and Robust Android Apps!
Android application development provides you with no technique to build a perfect Android mobile app. The development of your app completely depends on the idea you have, the skills to implement the idea and last but not the least, the experience working on the Android platform. One may possess skill and idea but experience comes with time. In this fast moving industry, time is of great essence; every year batches and batches of students complete their IT education hence, the market is full of competition. How are you going to stand out? Being smart is the only way out.  We all know experience and time go hand in hand but where do you get that fast required experience, that will not only make you stand out but will also give you the upper edge to beat the fierce competition?
Android developer training is what you are looking for. A place where skills and experience take priority, you start gaining experience from the day you join.
Apps through Android Application Development
Future Techno Labs, an Android training company in Ahmadabad has a vibrant training portfolio. Being determined to provide value to our students, we provide professional environment and experienced trainers that help them in their fast development. We have provided hands on experience by making the candidate work on live Android apps. Some of the live apps that our students have worked upon are:
Social Networking App
Chat Based Android Application
Health & Wellness Android Applications
Sensor Based Mobile Applications
Taxi Booking Application
Demand for X
Being associated with the IT industry since year 2000 has made us work on hundreds of projects side-by-side taking masses of students, which has made us master the art of delivering and the advantage is directly passed to our students.
Get Hired as an Android Application Developer to avail the Benefits
It has given us immense pleasure to train students in android app development and shape their career. If you dream to have a career growth, it is time to get the right training and experience on the Android platform. This will lead you the right path of success and you will get proper exposure to the current market trends. Get experienced as a student and enter the Android mobile Application industry as a professional. Take the call as quickly as possible to reach the newer heights.
Experience CV's get more preference in comparison to a fresh CV, we all know that, then why not add some experience and take advantage of the opportunity on hand by joining Android training in Ahmedabad?